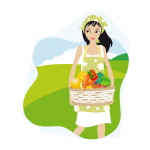 Daca iti place reteta prezentata da un like pe butonul din stanga
Cum vine frigul, parca mi se schimba si gusturile. Daca vara e pentru salate si verzituri, preparate cat mai simplu, cand vine frigul parca mi se face pofta de o bucata zdravana de porc, de o ciorba de burta sau de o tocana aburinda. Mancaruri de astea de mancat pe canapea, la caldurica, in timp ce te uiti pe fereastra si vezi cat e de ceata si urat afara si te bucuri ca ti-e cald si bine :)
With that in mind, in weekend am mesterit un chilli con carne de pomina. Daca vreti sa reproduceti minunatia,
aliniati la linia de start urmatoarele:
500g carne tocata de vita
2 cepe albe
3 morcovi
2 bete de telina
1 ardei rosu
4 catei de usturoi zdrobiti
1 lingurita de chimion si 1 de coriandru, pisate in mojar
2 lingurite de paprika (sau paprika afumata, in cel mai fericit caz ;)
1/2 lingurita de scortisoara + 1/2 nuscsoara + 1/2 cuisoare
2 linguri de cacao (da, exact, n-ati citit gresit - trust me, cacao-a e tot schepsisul, go for it!)
2 linguri de zahar brun
2 linguri de otet balsamic
2 conserve de rosii
2 conserve de fasole rosie (sau 400g fasole rosie, inmuiata in apa o noapte si apoi fiarta si rasfiarta pana-i frageda si buna)
1,5 L apa sau supa de vita/legume
Pe langa tot pomelnicul asta interminabil de ingrediente (dar, zau, zau ca merita tot efortul),
va mai trebuie urmatoarele, de presarat peste chilli si adus totul in stadiu de perfectiune curata:
smantana
guacamole (e perfecta combinatia - guacamole racaoros si fresh si chilli-ul fierbinte si super-aromat - the yumm!)
cheddar/cascaval ras
patrunjel/coriandru tocate
ardei iute tocat, daca va poftesc papilele la niste senzatii tari ;)
Povestea decurge cam asa:
Intr-o cratita incapatoare, se rumenesc incet in 2 linguri de ulei ceapa, usturoiul, telina, morcovul si ardeiul, toate maruntite bine, timp de vreo 10 minute. Se rastoarna peste carnea + condimentele + sare & piper si se amesteca vanjos. Dupa vreo 5 minute, cand carnea s-a perpelit pe toate partile si nu mai e rosie, se adauga in cratita si rosiile, cacao-a, zaharul, otetul balsamic si apa/supa, se mai amesteca odata asa, de ramas bun, se pune capacul peste toata afacerea si se lasa la bolborosit domol timp de 1/2 ora.
Daca aveti impresia ca ati trudit destul si parca va e cam foame, va bucurati prea devreme. Dupa ce fierbe acoperit juma' de ora, se da deoparte capacul si se mai lasa chilli-ul sa inca 30-45 de minute descoperit, la foc mediu, ca sa scada bine si sa se formeze sosul aromat si delicios. Greu, stiu, dar in final o sa merite pe deplin toata asteptarea!
Pana la urma, vine si momenul mult asteptat, cand totul e gata si nu mai trebuie decat sa va hotarati cu ce sa serviti asa bunaciune. E delicios si simplu, cu o felie de paine cu coaja crocanta, dar mult mai bun e cu putina smantana, niste cascaval ras si patrunjel presarat deasupra, sau, varianta mea preferata, cu un mot generos de guacamole!
Enjoy! I know we did!