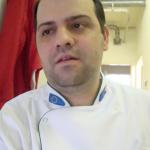 Daca iti place reteta prezentata da un like pe butonul din stanga
We had few warm and sunny days, which made me craving for ice cream. By the time I decided to make it (2 days ago), the weather showed me how unpredictable it can be. But it didn't stop my craving, so here is the recipe for ice cream without an ice cream machine! :)
Ingredients:
- 2 x 400 ml cans of coconut milk
- 120 g sugar
- 3 tbsp cacao
- 100 g dark chocolate
- seeds from 1 vanilla pod
- 100 g goji berries
Method:
Place all ingredients in a pot over a low heat and stir continuously until the chocolate has melted. I let it boil gently for about 15 min., and I kept stirring so it didn't stick on the bottom of the pan.
After I took it off from the heat, I transferred my batch in a separate bowl, added the goji berries and placed the bowl over a bath of cold water. Stirring it and changing the water few times, I got it to a fairly cold temperature. Now it could be stored in the freezer for at least 4 hours. Every 30 min or so I took it out and mix it with a hand mixer, so it didn't form ice crystals.
After 4 hours or so, I had my ice cream :)
Enjoy!