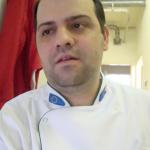 Daca iti place reteta prezentata da un like pe butonul din stanga
Making homemade cream soups is more easier than you think!
On a cool autumn or cold winter day, there is nothing better than a thick, hot soup to warm the body. Our soups conventionally uses a chicken base for flavor, but you can also use vegetable base to make the soup vegetarian friendly( here you can find the recipe for a base).
Making a cream soup will also allow you control fat and salt levels, as you can opt for healthier versions on and with key ingredients.
Soup is easy to personalize and you can use whatever ingredients you have on hand and fridge.
Today I will outline some general rules that will guide you to making great soup.
Add vegetables at different times, depending on how long they take to cook.
Root vegetables, such as potatoes and turnips should usually be added first, tender greens can be added 10 minutes before serving.
You can puree all the soup or just part of it. Consider pureeing half of the soup and then mix it with the non pureed soup for a difference in textures.
All herbs and spices can be used to flavor the soup.
If use woody herbs such as bay leaves or springs of fresh thyme or rosemary or whole spices...etc, combine in a small piece of cheesecloth (you can also use a tea ball) so that you can flavor the soup while it's cooking, but remove them before serving.
You can flavor your soup before serving
with a splash of wine, sherry, brandy or lemon juice.
Top soups with a dollop of creme fraiche, sour cream or yogurt.
Garnish soups with crumbled bacon, chopped herbs or croutons.
Here is one of my favorite recipe:

CAULIFLOWER, BLUE CHEESE AND BLACK TRUFFLE SOUP
INGREDIENTS:
Serves 4
1 medium cauliflower, trimmed and cut into small pieces, stalk included
50g butter or olive oil
1 large onion, chopped
2 stalks celery, chopped
4 cloves garlic
6 sprigs of fresh thyme
1L chicken stock
250g blue cheese
100ml cream
50g crumbled blue cheese
10g fresh slices of black truffle
2 tablespoon white truffle oil
Melt butter in a large pot, add onion and celery and sweat over medium heat for a few minutes until softened and transparent. Add cauliflower, garlic and thyme and season lightly with sea salt and freshly cracked black pepper. Add chicken stock and bring to the boil. Simmer covered for about 20 minutes or until cauliflower is soft.
Add cream and cook over low heat for 5 minutes.
Remove from heat, cool, then blend until really smooth and check the seasoning.
Serve in Martini glasses with crumbled blue cheese on top and garnish with fresh slices of black truffle and small drizzle of the white truffle oil. For a nice presentation, before serving add a small crouton made from tortilla and black salt.
Here are some other soups I made.
Spicy tomato soup with mozzarela and anchovies foccacia.
Lobster cream soup with salmon pate and salmon roe.
Roast pepper soup with fresh pesto bruscheta.
Green peas soup with crisby bacon and sage
.
Smoked tomatoes soup with spicy popcorn.
Roast pepper soup with black truffle cheese and salmon roe.
Enjoy!