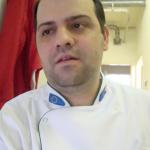 Daca iti place reteta prezentata da un like pe butonul din stanga
A traditional fish curry from south-west part of India - Goa. Like most of the Goan food, this dish is hot and delicious....especially for those who love shellfish and spicy food.
Fish is a staple food in the Goan cuisine, but also includes all types of meat and vegetables, each cooked in its on unique way. Traditional Goan food is cooked on a wood fire that brings extra, unique flavor which no gourmet chef can duplicate in the modern day kitchen.
Almost all the food in Goa is served along rice. This style of fish curry is tangy and spicy.
Today I will present you my way of doing this delicious dish. I like this curry with large Tiger Prawns but you can use any shell fish or any fish with firm flesh.
Goan Fish Curry Recipe for 10 portions

Goan

Curry Paste
5 whole red chilies or 2 tbs. crushed dry chilies
2 tsp. coriander powder from
2 tsp. cumin Seeds
2 tsp. turmeric powder
2 tsp. roughly chopped garlic
2 tbsp. roughly chopped ginger
1 tbsp. tamarind paste
To make the paste add all the ingredients to a blender with 5cl of water.
For the curry
1kg of clean mix shell fish (prawns, scallops, baby octopus, mussels)
1kg of large tiger prawns
coconut oil for frying
500gr diced onions
500gr chopped tomatoes
400 ml coconut Milk
4 green chilies deseeded.
500 ml ready fish bullion
Salt to taste.

Heat the coconut oil in a pot or wok. Add onions and sauté well until golden brown. Add the Goan paste to it and then add the chopped tomatoes and cook on low for about 2-3 minutes.
Add coconut Milk and fish bullion and bring to boil. Add salt to taste.
Add shell fish and green chilies to it and let it simmer for 5-7 Minutes.
For the Tiger Prawns
1kg of large tiger prawns
2 tsp. butter
2 clove of garlic crushed
juice from one lemon

Cook the tiger prawns on the grill, brushed with butter, garlic and lemon juice.

To serve

I serve this curry with plain boiled brown rice and some cucumber and yogurt salad with coriander and mint which makes for a balanced satisfying meal.

Garnish the Goan curry with grilled Tiger prawns and fresh coriander.
As well
you can serve this with chapatis or popodomus, or simply on its own as a satisfying meal for lunch or dinner.
Enjoy!
You can buy all TRS spices here-
www.real-spice.eu