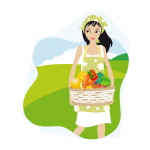 Daca iti place reteta prezentata da un like pe butonul din stanga
Happy vineri, lume buna!
Inca o sapatamana care a trecut ca vantul si ca gandul! Pentru noi, a fost ... cam magica saptamana asta!
Ma uit inapoi la vinerea trecuta si nu-mi vine sa cred cat s-a schimbat Filipino. In doar 7 zile amarate - care pentru mine au trecut ca fulgerul - el a invatat sa se ridice in picioare ca un expert, a trecut de la taratul ca soldatul ranit, pe front, la mers in 4 labe si a prins o viteza incredibila cand merge tinandu-ma de maini :D
Am sarbatorit toate schimbarile cu prajitura asta, all moist and orange and delicious!
Also - foarte important - se asambleaza in 10 minute deci e floare-la-ureche s-o faci si sa te dai gospodina harnica, da' sa-ti ramana timp si de-o leneveala la un episod nou de Grey's Anatomy (sunt eu ne-distrata sau sunteti si voi de acord ca sezonul asta e foarte amuzant?)
Sa purcedem la prajiturit, deci!
Ingrediente:
6 morcovi rasi
3 mere rase
sucul si coaja de la 1 portocala
2 cups de faina integrala (300g) - pentru varianta fara gluten, inlocuiti cu mix de faina fara gluten si adaugati o lingurita in plul de bicarbonat de sodiu
1 lingurita bicarbonat de sodiu
5 linguri de miere/sirop de artar/nectar de agave
180 ml ulei de masline
1 lingurita scortisoara
100g stafide (daca le inmuiati in putin rom inainte, devin evem yummier!)
(Asa cum se intampla la toate prajiturile facute de moi...)
Toate ingredientele se amesteca vartos intr-un bol incapator, se toarna in tava unsa cu ulei de masline si se dau la cuptor, la 170 grade, timp de
1 ora
(ca sa fii sigur, fa testul scobitorii ;)
Cand e gata, se lasa la racit in tava, se taie in felii, se gusta delicat, se indeasa apoi frenetic in gura, se minuneaza ce usor se face si ce surprinzator de buna e, se mai mananca o felie si se ofteaza de prea-bine!
Life is good! Enjoy!