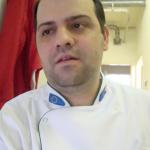 Daca iti place reteta prezentata da un like pe butonul din stanga
When the weather gets cold, I start thinking more about soups….hmm!...Corn Chowder with bacon ...
Anyway, this is one of those recipes that you can make any time of the year.I am making this corn soup since I purchased my '' The New Basics'' cookbook back in the 2003. I have altered the recipe a little bit to suit my tastes and I think you are going to love it too because it always wins rave reviews for us.Corn chowder is a great American dish and a large bowl with some crusty bread makes a welcome lunchtime meal on its own. Chowders can be modified and developed by adding smoked fish, crab, lobster or clams to become a personalize chowder. It should be thick and chunky and full of flavor and you should almost be able to stand the spoon up in it.To make a good Corn Chowder, really rich, that will keep you coming back for more you need to use homemade stock in place of the water and cream rather than just milk.This soup is creamy, is fishy and loaded with vegetables - onion, carrot, potatoes, and of course sweet corn. I made garlic croutons with salmon roe to go with the chowder. They were the perfect addition to this delicious meal.The result? Well, I'll let you be the judge.Here is my way:
PRAWNS, BACON AND CORN CHOWDER
Ingredients- 100gr butter- 300gr onions - 200gr chopped crisp bacon- 200gr diced carrots- 200gr diced celery- 500gr diced potatoes- 1 -400gr cans kernel corn- 20gr chopped parsley- Salt, pepper,- cayenne to taste (optional)- 1 liter of lobster or shrimps stock- 500gr chopped raw shrimp or small shrimps- 100gr flour- 1 tbsp. lemon juice- 1/2 tbsp. marjoram- 500ml cream-500gr Jumbo boiled shrimpDirectionsMelt the butter and saute the bacon, onions, celery, and carrots.
Stir in flour and cook 3 to 4 minutes.Add lobster stock and water to make a thin sauce.Add diced potatoes, corn, small shrimps, lemon juice, marjoram, salt, pepper, and cayenne.
Simmer about 40 minutes. Add cream and bring to a boil.Just before serving, add in chopped parsley.
Garnish each serving with 1 jumbo shrimp and a crouton with salmon roe.
Enjoy!!