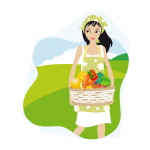 Daca iti place reteta prezentata da un like pe butonul din stanga
Puiul marocan de care va spuneam ieri - l-am vazut intr-un numar de Good Food si, cum suna tare bine, am zis ca e musai sa-l incerc.
E copt incetisor la cuptor, cu vin si lamaie, ceapa si usturoi din ala bun, in coaja (yum) si devine foarte, foarte fraged, cu pielea crocanta si delicioasa. Unde mai pui ca practic se face singur - tot ce trebuie sa faci e sa arunci ingredientele in tava si sa pornesti cuptorul :p O sa repet cat de curand experienta :D
The cast of characters:
- 8 puple de pui (doar partea de sus)
- 2 cepe rosii, taiate in sferturi
- 6-7 catei de usturoi nedecojiti
- o lamaie
- 200g masline verzi, fara samburi
- 200ml vin alb
- patrunjel tocat
- sare, piper, ulei de malsine
Am uns puiul cu un pic de ulei de masline, l-am sarat si piperat si l-am pus in tava impreuna cu ceapa taiata in sferturi, cateii de usturoiu nedecojiti, lamaia taiata feliute si vin. Am presarat un pic de patrunjel pe deasupra, am acopit tava cu folie de aluminiu si am bagat-o la cuptor, la foc mic, timp de vreo 30 minute.
Dupa o jumatate de ora, am scos folia, si l-am bagat inapoi la cuptor, sa se rumeneasca bine de tot ;)
In timpul asta am scos samburii maslinelor (Mazi's tip) - adica le-am pocnit cu fundul unei cani bine de tot, si that was it - samburii au iesit foarte usor. Am presarat si maslinele peste pui si am mai lasat inca 15 minute la cuptor. Asta a fost tot :D Simplu, nu?
And then we had perfection - pui crocant, usor lipicios, usor acrisor - merge la fix cu un pic de cus-cus alaturi, ba chiar si cu o salata, si, desigur, cu niste prieteni buni :D