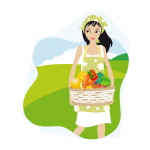 Daca iti place reteta prezentata da un like pe butonul din stanga
Inca de dinainte de a se naste domnul Filipescu ma gandeam la vacantele pe care le vom face in 3 si cat de minunat va fi sa ii facem cunostinta cu lumea mare, cu locuri si oameni si experiente de toate felurile.
Odata ce ne-am vazut cu the little bundle of joy in brate, urmatoarea intrebare a fost insa "Ok, si cam cand ar trebui sa incepem sa-i facem cunostinta cu lumea mare?".
Lucrurile erau complicate putin de oroarea multora, care ne intrebau oripilati "Ceee, vreti sa luati un bebe mic in vacanta? In avion? Daca plange? O sa va intoarceti mai obositi decat ati plecat! O sa se imbolnaveasca! O sa va para rau!" dar mult mai mult de faptul ca Filip inca nu mananca (nici acum) decat supa, carne si felurite legume gatite de mine acasa si majoritatea piureurilor de bebelusi cu carne si legume din comert contin (pe post de ligand) orez sau tapioca (sau alte cereale) din care el inca n-are voie.
Prin urmare, trebuia sa luam cu noi in bagaj lada frogorifica plina de supa si piureuri congelate cat sa ne-ajunga pentru toata vacanta + blender + incalzitor + sterilizator + alte felurite borcanele si lingurite si biberoane ... + apartament la destinatie cu bucatarie unde sa prepar mesele domnului F. Cam asa arata bagajul lui:
(iar rucsacul mic din fundal e bagajul nostru, al amandorura :p)
Mdeeeci, da - problema era nitel spinoasa. Dar - din fericire, as spune - dorul de duca a fost mai mare asa ca ne-am decis sa find a way to make it all work. Pana la urma, cum se zice din batrani: "daca vrei, poti!" :)
Am hotarat ca primele iesiri in 3 vor fi musai prin Europa, cu flight time sub 2 ore, de preferat pe undeva unde am mai fost unde sa ne fie putin familiar locul, cu apartament inchiriat ca sa avem toti loc de invartit/tarat in loc de camera de hotel si doar pentru un weekend prelungit in caz ca it all goes horribly wrong.
Prima pe lista - Roma! (la 8 luni filipesti)
De fost, am mai fost acum vreo 6 ani cand am vizitat constiincios toate muzeele so that was off the list, mancare buna au, compacta si usor de strabatut pe jos e, iar argumentul decisiv a fost ca - zice-se - italienii sunt morti dupa copii.
Am luat bilete de la Tarom la promotie (vreo 100euro, cu Filip la mine in brate) si
apartamentul
l-am inchiriat de pe Airbnb.com: luminos, cu living & bucatarie + dormitor + o terasa mica unde sa bea mama si tata un prosecco dupa ce adoarme bebelinul, fix, dar fix, in centrul centrului, intre Panteon, Fontana di Trevi si Spanish Steps (scumpicel la 120 euro/noapte dar pe de alta parte Roma e a naibii de scumpa la hoteluri si ultima data cand am fost am stat tot cu 120 euro, doar ca intr-o camera sinistra si plina de igrasie langa gara - bleah!)
Unde mai pui ca in apartament ne astepta patutul gata facut si scaunul de masa montat, pentru innaltimea sa, domnul F.
Odata rezolvate detaliile locative, tot ce ne-am mai ramas a fost sa ne facem bagajele si sa ne luam zborul. Am incercat sa ne imbarcam cat mai tarziu, ca sa nu il tin pe F. inghesuit pe scaunul de avion mai mult decat e necesar. Am pregatit biberonul cu lapte si i l-am dat exact in momentul cand avionul a inceput sa accelereze pe pista si s-a ridicat in aer (in momentele alea, pare-se, se modifica presiunea din cabina si pentru a o egaliza trebuie sa inghiti. La oameni mari usor de facut, la bebelusi si copii mici - mai greu. De asta e bine sa fiti pregatiti cu sanul/biberonul/niste guma de mestecat pentru copiii mari).
A plans Filipino vreo 10 minute, dar nu din cauza zborului ci pentru ca ii era somn si ca niste parinti denaturati ce suntem il uitasem pe his sleeping buddy - Ror-Ror - in bagajul de cala. Pana la urma insa a adormit si fara el si au urmat 2 ore de liniste si pace. (la intoarcere am fost pregatiti cu Ror-Ror in bagajul de mana si n-am mai avut plansete, ci doar un bebe care dupa ce a ras si facut cu ochiul si cucerit inimile tuturor doamnelor si domnisoarelor din jur (he has a thing for the ladies) a dormit fara probleme restul zborului.)
Am stat 5 zile la Roma. N-am avut niciun plan, nu ne-am propus nimic (decat sa mancam bine, desigur :))) dar asta e usor de realizat). Cred cu tarie ca asta e secretul succesului cand vine vorba de calatorit cu puradime mica.
I-am respectat programul mogaldetii, asa cum facem si acasa. El a fost personajul principal the whole time. Se trezea pe la 6:30-7, isi bea laptele, se juca (cu his amazing daddy care pe mine ma lasa sa dorm) vreo 40 de minute prin apartament si apoi somn (si pentru el si pentru daddy). La 9 se trezea, la fel si eu, ii dadeam prima masa de solide, trezeam si una-bucata-somnoroasa-de-tata si o luam din loc.
Prima oprire - cum altfel - cafeneaua de la parter unde beam un capucino si mancam un sandvis cu mozzarella si flori de dovlecel (mmmm!) Si apoi, mergeam. Am strabatut toata Roma-n lung si-n lat, am cascat gura la Colosseum, ne-am plimbat prin Villa Borghese, am admirat San Pietro, ne-am speriat de cat de aglomerat era la Fontana di Trevi (si n-am mai aruncat nicio moneda ca sufocam copilul in omorul ala), am privit cerul prin occulumul Panteonului, am ras de suta de japonezi care statea la coada ca sa se pozeze la Boca de la Verita. Mi se pare very child-friendly Roma pentru ca sunt o multime de privelisti pe care le poti admira de afara, cu tot cu enfant!
Si AM MANCAT! O-hooo de planul asta ne-am tinut cu sfintenie! Pe la ora urmatorului somn al lui Filip (12:30-13, asa) lasam spatele caruciurului la orizontala si, poate unde-l plimbam atata afara prin soare si aer curat, adormea domnisorul instant, exact la timp cat sa se opreasca mama si tata la o tratorrie cu mese afara si sa deguste ici o burrata, colo niste paste dementiale, peste tot un vin bun :)
Cand se trezea era randul lui la masa si apoi ne mai plimbam nitel.
Incercat sa fim acasa la 4-4:30 pentru ultimul lui somn (si un pui de somn pentru noi, desigur) si apoi poate mai ieseam o ora-2 pe langa casa. La 7-7:30, dupa baie si ultimul lapte se dadea stingerea pentru prichindel si noi ne refugiam pe terasa cu o carte si cu sticla de prosecco. Aaaa, ce bine era! Mai pe seara il trimiteam pe Alex in cautare de mancare (cel mai des paste de la
Pasta Imperiale
- 5 euro portia, facute pe loc acolo, si ATAT-de-bune!)
Au trecut ca vantul si ca gandul cele 5 zile dar ne-au facut tare bine! Cheia succesului? As zice ca sunt mai multe:
1. apartament inchiriat in loc de hotel ca sa nu te claci in picioare si sa aiba si oamenii mari parte de some quality time dupa ce culce prichindeii.
2. low expectations and few-to-no plans. n-ai de unde sa stii ce si cum o sa ii placa copchilului, de o sa aiba sau nu chef. go with the flow, nu va propuneti sa vizitati muzee sau alte chestii heavy. stati pe-afara, cascati gura la lucruri frumoase, beti o cafeluta, zambiti localnicilor. e frumos si asa, ba chiar si mai si, as zice!
3. faceti bagajele temeinic. fiti pregatiti pentru orice: vreme mai rece sau mai calda, raceli, plictiseli.
... and last but not least: bucurati-va te toate lucrurile mici care va ies in cale! O sa strangeti o gramada de amintiri de nepretuit!
As repeta experienta? Hell, yes! Actually, de miercuri incepem explorarea Istanbulului in 3. Will keep you posted!