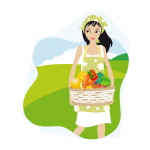 Daca iti place reteta prezentata da un like pe butonul din stanga
Incep cu o declaratie: iubesc sarmalele! Le iubesc gustul, iubesc toate amintirile pe care le evoca, cu bunica mea in bucatarie, cu mese mari, cu brazi de Craciun si oua rosii de Paste, iubesc procesul de asamblare.
Multa lume zice (ironic) ca noi, romanii, nu avem nimic "al nostru" in bucatarie dar eu nu sunt de acord. Avem destule. Si bune. Dar cele mai "romanesti" (lasand deoparte influentele orientale) mi se par sarmalele si iubesc felul in care ma simt asa - parte dintr-o comunitate minunata, de Sarbatori, cand stiu ca in nenumarate bucatarii, cineva baga o cratita aproape identica cu a mea, plina ochi cu sarmale, in cuptor si apoi o scoate aburinda si de desfata cu ele! They bring us all closer together. Cum sa nu le iubesti?
Singurul meu regret e ca le mananc prea rar.
Deci. Despre sarmale sa vorbim!
Inainte de reteta, niste cugetari:
- e bine sa ai varza cu foi subtiri, cat mai intregi si nu prea sarata (daca e prea sarata, cateva ore in apa rece o sa rezolve problema)
- secretul sarmalelor este ceapa. N-ai cum sa pui prea multa ceapa. Fi generos, o sa fie bine!
- in materie de condimente, I like to keep it simple: marar, boia dulce si cimbru. Dar din belsug!
- niste costita afumata si niste sorici imprastiate printre sarmale so sa le duca la the next level
- orezul trebuie sa aiba cu ce fierbe, asa ca e bine sa adaugi 1 ceasca de apa in compozitie, ca sa nu sece si sa devina uscata pe masura ce orezul absoarbe lichidul
- o oala de lut face minuni (eu nu mai am :( )
Cam atat din putul gandirii. Sa trecem la fapte:
Ingrediente:
- 5 cepe mari, tocate marunt
- 2 linguri untura de rata (sau porc)
- 1 kg carne tocata (am folosit amestec de porc cu vita, tocata pe loc de domnul macelar)
- 1 legatura marar
- 1 legatura cimbru (uscat)
- 1 lingurita de boia dulce
- 1 ceasca de orez (150g)
- 1 ceasca apa
- sare & piper
- 2 verze murate, desfacute in foi
- 1 conserva rosii
- 200g costita afumata +/- sorici, taiate feliute
- 3-4 foi dafin
Metoda:
Caleste ceapa cu coditele de marar tocate marunt si cu sare, piper si boia pana devine sticloasa.
Amesteca carnea cu mararul, cimbrul, orezul si apa.
Adauga 3 sferturi din ceapa si omogenizeaza bine.
Impatureste sarmalele (eu fac ca alaturi: pun umplutura la un capat al foii asezate pe lung, aduc laturile peste ea si apoi o rasucesc pana la capat. Voila!)
In the meantime, toarna peste restul de ceapa conserva de rosii si da un clocot sosului.
Pune pe fundul cratitei putina untura, apoi un strat de varza tocata (cotoarele, ca nu risipim nimic ;) ), imprestie deasupra 2-3 linguri de sos de rosii, 2 foi de dain si cateva feliute de costita afumata. Incepe sa asezi sarmalele in randuri concentrice, unele peste altele. Intre randuri, mai adauga varza tocata, sos de rosii si felii de costita.
Dupa ce le asezi pe toate in cratita, pune deasupra un ultim strat de varza si adauga restul de sos de rosii si 200 ml de apa (cat pana la 1/2 din innaltimea cratitei) ca sa aiba in ce fierbe frumuselele.
Pune-le la fiert pe aragaz, la foc iute pana incep sa fiarba acoperite, apoi la foc mic vreo 45 minute.
Mie imi place sa se dau apoi la cuptor, la 180 grade, inca vreo 30 de minute, pana se bronzeaza bine.(mie imi place sa absoarba aproape toata apa si sa fie putin mai uscate - mereu amurat zeama aia rosiatica care ramane in farfurie la sarmalele prea apoase)
Asta-i toata povestea. Nu e deloc greu, odata ce te prinzi cum sta treaba cu impaturitul. Si rezultatul... ooooo, rezultatul e al naibii de bun!
Cu niste mamaliguta calda si un mot de smantana, sunt e de-a dreptul fabulos!
Sa ne fie de bine!