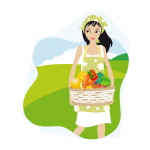 Daca iti place reteta prezentata da un like pe butonul din stanga
A trecut asa de repede anul asta, maimutoiul meu! Acusi parca mi s-a declansat travaliul si ma intrebam ce-o fi fost in capul meu de-am vrut sa nasc natural. Acusi trecura 16 ore si te tinui pentru prima data in brate! Acusi imi statu inima in loc si ma indragosti iremediabil si pe vecie de o mana de om care a crescut in mine!
Acusi ne minunam cat de mic si dulce esti si cum de ne lasa domnii de la maternitate sa te luam cu noi acasa, asa.. nesupravegheati de nimeni (are they crazy?). Dar am invatat si ne-am descurcat si am facut treaba buna so they weren't so crazy after all :)
Acusi ma intrebam - in prima ta noapte cu noi acasa - "what the hell is this baby up to?"
"DE CE NU DOARME? uite, a vrut sa ne pacaleasca - in maternitate dormea asa frumos si acum ca suntem doar noi 3 acasa, isi da arama pe fata!".
Acusi te hotarasi sa fii un domn totusi si de la 8 saptamani incepusi sa dormi toata noaptea. Iti sunt fooooooarte recunoscaoare pentru asta, somnorici mic!
Acusi nu intelegeam de ce vomiti si vomiti si nu mai vrei sa mananci si plangeam seara in baie de teama ca maine o luam din nou de la capat si cum oare o sa te fac sa mananci iar?
Acusi incepusi sa zambesti si apoi sa razi in hohote si asa am descoperit cel mai frumos sunet de pe planeta!
Acusi respiram usurata ca am trecut peste cea mai grea si mai horror perioada din viata mea - cand nu iti poti hrani copilul si nu e nimeni care sa te ajute (decat your amazing daddy, ofc!) si doctorii au nici un sfat pentru tine si you're left on your own to figure it out. But I did and it's over si acusi ai crescut rotunjor si dolofan si zambaret si ai inceput sa mananci solide si sa MANACI cu placere!
Acusi invatasi sa stai in fund si apoi sa te tarasti (impingandu-te cu un singur picior, ca un soldat grav ranit pe front), acusi sa mergi in 4 labe si sa te ridici in picioare. Acusi o sa-mi dai drumul la mana si o sa pornesti in explorarea lumii asteia mari singur-singurel! O sa fiu cam trista cand o sa se intample asta... dar foarte, foarte mandra de tine! Actually sunt si voi fi mereu mandra de tine, sa fii sigur de asta!
Acusi iti incepusi cariera ce calator prin lume si zburasi prima oara cu avionul pana in Roma, de te admirara toti italienii si mai ales italiencele :))
Acusi te tineam in brate - o mogaldeata mica si neajutoarata - si ma intrebam de unde a aparut atata dragoste in inima mea si acusi o simt -pe ea, inima - de un milion de ori mai umflata, pentru ca toata dragostea a crescut odata cu tine si s-a inmiit in anul asta care-a trecut! Acusi pleznesc de mandrie si uimire si de recunostinta ca ne-ai ales pe noi sa-ti fim parinti! Iti multumesc pentru asta si iti promit ca ma voi stradui mereu sa fiu mama pe care o meriti!
La multi ani, minunea mea mica!