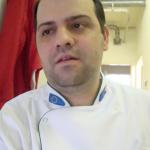 Daca iti place reteta prezentata da un like pe butonul din stanga
Yesterday was Valentine's Day, so I decided to make it special, but nothing fancy. And since I celebrated the day with my best friend, my daughter Stephanie, we agreed to do girl stuff. For her, girls stuff means cooking or shopping :) It's being a long day in school for her, then lots of homeworks, so we skipped the shoppings and got to do the cooking. That's the one thing one can never go wrong with her. She loves to try things in the kitchen.We wanted to make something that's quick, good and fun too ... so we did stuffed strawberries.What we needed:- 500 g fresh strawberries- 75 g chocolate cream cheese spread- 75 g cream cheese- 1 tbls honey- chopped nuts ( optional) to sprinkel on top ...or anything you want
First we washed the strawberries.
Then we cut off the top.
We scooped out the middle.
We use ready made chocolate cream cheese spread and we mixed 1 tbsp of honey with 75 g cream cheese and placed the mixes in pastry bags.
Now Stephanie filled each strawberry, then she sprinkled chopped nuts and sugar hearts on them.
And this is what we ended up with :)
I hope you all had a nice Valentine's Day!