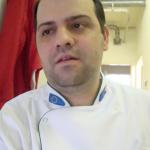 Daca iti place reteta prezentata da un like pe butonul din stanga
I had a bottle of Prosecco sitting in my fridge for some time now. I guess I was waiting for the summer. With so many fruits around now, it was a good reason to open the bottle for a refreshment mix :)
I usually don't like sweet drinks, so this one is no exception. But anyone that likes it sweet, can add to the drink some simple or flavored syrup.
Ingredients
- watermelon - about half of a medium size one
- fresh mint leaves
- fresh or frozen berries (I used frozen ones, instead of ice)
- 1 lime
- Prosecco (chilled)
Method
Get all the seeds out from watermelon, then place the pulp into a blender. Give it a good mix. Strain through a fine sieve, so the juice it's separated from the pulp.
I ended up with a bit more then half a liter of juice.
In a glass goblet put some fresh mint leaves, 1 lime (very thin sliced) and some berries.
Pour over the watermelon juice, until you reach about half full (here you can add syrup, if you like) and top up with chilled Prosecco.
Enjoy the summer!